The village of Salto de Castro in Zamora in the northwest of the country made headlines last year when it went on the market for just €260,000 – less than the average price of an apartment in Barcelona.
It was bought by businessman Óscar Torres Gallego for around €300,000 and he had planned to redevelop the enclave to boost local tourism. The owners before Torres bought the village in the early 2000s and had also aimed to transform it into a tourist hotspot.
12 months later, it is for sale once again at almost double the price it was bought for. Torres has done some architectural work on the buildings and submitted paperwork with the local government but can't complete the planned development due to his business strategy, according to real estate marketplace Idealista.
What's included in the sale?
For €580,000, the lucky buyer will get 44 homes, a bar, hostel, swimming pool and sports area as well as a church and an old barracks building that used to house the civil guard. There is even a pharmacy and police station – everything you might expect to find in a rural Spanish village.
Just a short distance from the Portuguese border, it is in the heart of the Meseta Ibérica UNESCO Biosphere Reserve.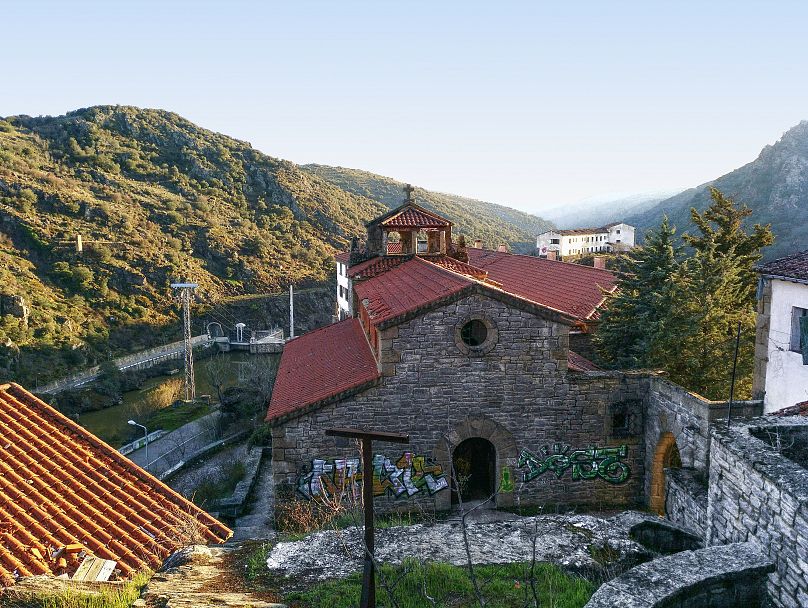 Salto de Castro also has stunning views of the Duoro River and gets around 135 days of sunshine each year.
Interested parties will have to act quickly, however, as there has already been some interest in buying the abandoned village and a bidding war could push the price over €600,000.
When it was on sale last year, property agents estimated that it would cost around €2 million to make Salto de Castro workable and start attracting visitors.
Why is Salto de Castro abandoned?
Salto de Castro was built in the 1940s by electricity company, Iberdrola to provide homes for workers who constructed the nearby dam. In the 1980s, people started to abandon the village as jobs were scarce and by 1989 there were no inhabitants left.
It has now stood empty for more than 30 years.
The financial crash in 2008 put the previous owners' plans on hold and eventually, they decided to put Salto de Castro up for sale in 2022 with the hope that someone else could make their tourism vision a reality.
Many rural Spanish villages are suffering from ageing populations as young people move to the city or have fewer children than the generations before them.
As a result, some local governments are encouraging foreigners to move in with relocation grants and cash payouts.
Just a few hundred kilometres away, the village of Rubai in Galacia has offered expats up to €150 a month to live there. The local government is hoping to boost student numbers at local schools by incentivising families to move to the village.